Kerry McClain is a photographer & visual artist living and working in San Angelo, Texas.  A computer programmer by trade, technology has been a part of his life from a very young age.  His father worked for the Burroughs Corporation (later known as Unisys) for 37 years, working first on mechanical adding machines, then vacuum tube computers, then transistor-based computers, then IC-based computers and ultimately on the modern PC.  Purely a twist of fate, this exposed Kerry to all things mechanical and electronic from a very young age.
Kerry was drawn to his first art form, photography, over 30 years ago.  His photos have won awards and been seen in print in several national publications.  When digital cameras first came within his reach, he was fascinated by not only the virtually limitless experimentation afforded by the cameras themselves, but even more by the things that could be done to the photos afterward in Photoshop.  Blurring the line between reality & fantasy has become commonplace in his photos, mixing anachronistic cameras & lenses with state of the art technology to produce his trademark unique photos.
In 1997, and quite by chance, the word "fractal" came to Kerry's attention.  The exquisitely detailed, seemingly infinitely varied shapes, forms and colors proved to be an intense fascination, and he began exploring this medium he had not encountered previously.  He knew early on that the mix of esoteric mathematics and ever-increasing computational power was a force to be reckoned with, and he's been exploring this purely digital medium ever since.  His first one-man show in 1999 was called Bit Depth, hosted in the first cyber-cafe in Dallas (the now defunct Hi Octane Johnny's).  As time passed and experience grew, it was a very natural progression to apply his trademark photographic manipulation techniques to these fantastic digital images, culminating in his most recent body of work which can be seen on this website.
Kerry currently shows and exhibits both his photos and his digital art in the West Texas area.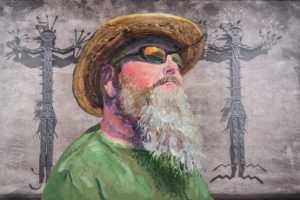 Recent shows/exhibitions
Annual Permian Basin Juried Art Exhibition – Ellen Noel Art Museum – June, 2018 – Odessa, TX
Driven to Abstraction – San Angelo Art Club – Feb 2018 – San Angelo, TX
Kamiposi First Friday – solo exhibition – Jan 2018 – Midland, TX
The Center for Contemporary Arts National Juried Competition – Nov 2017 – Abilene, TX
Midland Arts Association Spring Show – May 2017 – Midland, TX
FotoTexas: People, Places & Culture – Texas Photographic Society juried show – Oct 2016 – Dallas, TX – 2nd Place
Midland Arts Association 39th Annual Fall Juried Art Exhibition – Oct 2016 – Midland, TX
Permian Basin Juried Art Exhibition – Apr 2016 – Odessa, TX – 3rd Place